Rootwork on behalf of clients
As a two-headed doctor and conjurer I perform rootwork and spellcasting on behalf of clients. This means that I will work with my spirits and the powers I have in order to assist and help you acheive the goals we set. I hold myself to a high ethical standard which revolves around integrity and honesty. If I cannot help you with a case I will always refer you to a fellow rootworker who I believe may be of aid, or tell you that I am unable to help you. Whatever the case, I'll be upfront and honest with you.

What type of rootwork I perform?
I am a justified worker which means that I fully believe that spiritual practitioners can be and are meant to be the ultimate harbingers of justice. If a case is justified and I feel the work needed on a case is in line with justice and the betterment of our fellow man than I shall take it on. Before taking on any justified cases I will perform a personal divination on the matter and make my decision based off of that divination. What this means is that when normal systems of justice need help, or fail to provide, or when things seem out of your ability to control I am willing to step in and set things right.

When I take on a case I also assist the client in learning a bit of conjure and magick. It is my firm believe that with the application of the correct knowledge with unwavering faith that amazing things can be accomplished. I shall guide you through prayers, affirmations, special baths and other small works while I work with my spirits and ancestors to perform the spellwork on your behalf.

I am strongly gifted in, but not limited to the following types of rootwork and spellcasting:

Love Work, be it drawing a new love, fertility, fidelity binding, or reconciliation.
Revenge, Crossing, Destruction, and Break Up Work if deemed justified.
Hot foot and banishing Work
Uncrossing and Reversal Work
Protection Work and Shut your Mouth or Stop Gossip Work
Success, Job, and Money Drawing
Working with spirits, especially graveyard, crossroad, goetic spirits, and djinn.
Court Case Work, I have a strong sense of justice and this shows in my court case work.
and Domination and Influence work.

I am strongly gifted with working with spirits, I can call upon them to aid us, exorcise them, and tame them. I also have a strong area of expertise in dealing with other spiritual practitioners. If you feel under attack I can undo the damage and deal with the person throwing for you.

How to enlist my aid?
In order to see if I am willing to take on your case you need to have a reading with me on the situation. Click on the Readings and Consultations link and schedule a divination with me. After we've divined into the situation and we've discussed the case and he what it will entail then I'll perform a divination for myself and from there either accept the case, reject it, or refer it to someone I believe will be able to help.

Rates
Rates for rootwork vary and we will have to discuss the rates and payment options during the reading. However, the price quoted will include any crossroads or graveyard work that I need to perform on your behalf.

As practitioner of the grimoire-conjuring tradition I have at my disposal spirits and allies that are not always found among common hoodoo practitioners. When I read for the case I will also inform you on which approach would be the best to take in order to have the highest rate of success. If the case calls for me to step into my Temple and summon aid from my chthonic allies then I am willing to do so.

Guarantees
There are no guarantees in life and this is certainly true for magick and rootwork. As an ethical pracitioner I cannot guarantee you that the spells will always work, or that we will always have the success that we expect. To give you this guarantee would be unethical and demonstrate a complete and total lack of understanding of the nature of magick. Frankly, if anyone is giving a 100% guarantee in respect to spellcasting then you should run the other way for it is the surest sign of a fraud.

No doctor can guarantee that a treatment or medication will work, no psychologist can guarantee that treatment will resolve the issues, no lawyer can guarantee that they will get the verdict they want. Neither can a conjure doctor guarantee their magick 100%.

What I can guarantee is that if I take on your case I will do everything within my power to acheive the goals that we set. I will bring to bear my powers and abilities in rootwork, Quimbanda astrological magick, goetia, djinn magick, and talismanic magick to bring about manifestation.

In my many years experience in the occult I have come to to believe that in reality there are very few cases that are beyond the ability of magick to have some influence on. So, even if we cannot acheive the exact results we seek we, we can still have some sway over things.

Basic outline of having rootwork done on your behalf
After getting a reading and consultation where I agree to take the case on and do work on your behalf, I shall give you an estimate of when your work will be completed. I will send a follow up email on any divinatory signs that I have noted, any perceptions I have received from the work, and also what you can expect in the coming days.

I find that communication between client and rootworker is extremely important and so I limit the number of cases I take so that I can divide up my time fairly without taking away from the quality of any work. That said, there are some standards in communication that I would like upheld.

When I take on a case, I will send a follow up email with my analysis at the close of the spellwork. After which I recommend waiting at least 3-4 weeks for any indication that the spell is working. During this point if any major change in the case occurs you are free to contact me and we can establish what needs to be done, but if things are progressing as normal then I request that you wait until the end of 3-4 weeks before you contact me with an update on the situation from where we can decide what needs to be done.

Now during this time, I will not let my clients feel like they are stuck in limbo waiting for the deadline to approach. Along with the analysis that I will send I will also include a list of suggested activities magical and non-magical that should be undertaken to keep one busy if the situation calls for it and to help prepare for the eventual success of the spell. I find this helps clients to keep patient, while also preparing them for the change that magick will bring. This will also further increase the chances of true success since I find that sometimes clients are unprepared for success even though they want it, which seems rather common in reconciliation cases.

I often work with hot and fast spirits that tend to bring manifestation about rather quickly, but that is not always the case and manifestation rates are contingent upon numerous factors. I will tell you in the initial reading and the analysis what to look for.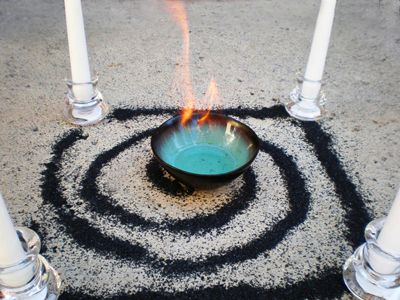 A spirit trap that lures out the spirit that has been maliciously tormenting a familiy; once the spirit is trapped it is tamed, bound, and controlled.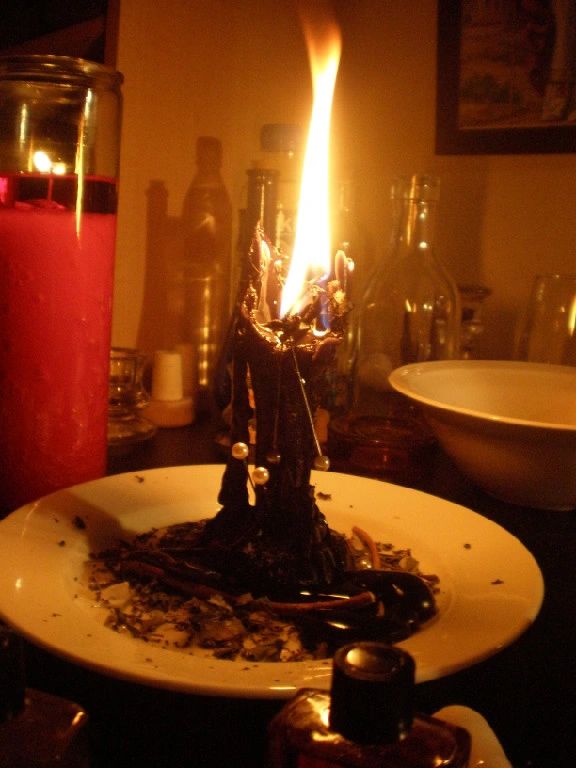 Binding and cursing work against a trouble-maker and gossip to shut their mouth and send them far far away.